gaithersburg book festival keynote speech – part 1
gaithersburg book festival keynote speech – part 2
fox 5 new – washington, dc. – 5/16/2011 (i was a little tired and a lot sick during this one).
kare 11 saturday – mpls, mn. – 5/14/2011
interview with people magazine
interview with los angeles magazine
kare 11 television – mpls, mn. – extra taped piece – 4/28/2011
kare 11 television – mpls, mn. – live interview – 4/28/2011
outlook from bbc world service radio
an interview with reading is fashionable (in my own words).
elle magazine – april 2011 – vol. xxvi – number 8 – no. 308: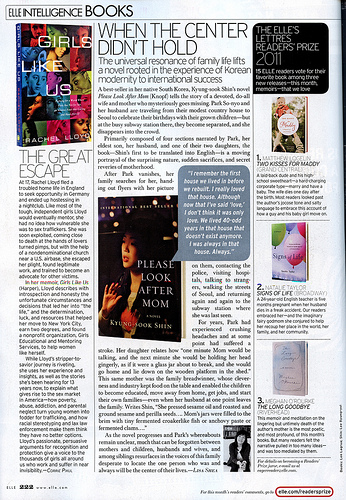 "In Matthew Logelin's honest and poignant story, we learn a great many lessons about the fragility of life, and about the strength we all can summon to move forward. With two kisses and an open heart, he shows how love can sustain us." – Jeffrey Zaslow, #1 New York Times bestselling coauthor of THE LAST LECTURE
"Two Kisses for Maddy is less a conscious piece of writing than a spontaneous eruption from the heart. It will make you cry but not only out of sadness. Some of your tears will be for the beauty of love and its miraculous power to heal even the deepest wounds." John Grogan, New York Times bestselling author of MARLEY & ME
"No one wants to read a depressing book. But how can you possibly call depressing what is so filled with love and life and the unstoppable message of how lucky we are to have what we have. Read this book and put your life back in perspective." – Brad Meltzer, New York Times bestselling author of HEROES FOR MY SON
"Almost unparalleled as a raw and unapologetic portrait of grief, TWO KISSES FOR MADDY is a stunning testimony of the kind of love– fated, magnificent– that inspires novels. So vivid, so powerful and pitch-perfect, is his evocation of his beloved Liz that I could hear her laughter and see her face for days after putting the book down." – Claire Fontaine, national bestselling author of COME BACK
"A touching, heartbreaking, and ultimately triumphant story. It offers hope, humor, and a path toward new life, and a priceless lesson about the value of communication in times of trouble." –Jim Beaver, author of LIFE'S THAT WAY and SAG award nominee for Deadwood
"You won't feel the slightest bit of pity for this unintended single father. You'll be cheering Matt Logelin on page after page, laughing and crying with him– and falling in love with Madeline." – Christine Coppa, author of RATTLED!
"Within hours of giving birth, Liz Logelin died of a pulmonary blood clot, leaving her husband Matt as sole caretaker of their daughter Madeline.
From their first meeting in 1996, they experienced a story-book romance and were blessed with close family and friends, good jobs and a new home. With their first child on the way, things began to fall apart when Liz became so nauseated that she couldn't keep food down and began to lose weight. This affected their unborn child, who was being starved of nutrients. There were other complications, as well. As a result, Liz went on bed rest and was then hospitalized, and the premature delivery of the baby seven weeks before its due date became necessary. Faced with a double calamity—his wife's death and a premature infant to care for—Matt wondered how he could manage. While friends and family rallied around him and his employer gave him generous paid leave of absence, he was completely unprepared for the responsibilities of single-parenthood. The author writes movingly of how his grief mingled with joy as his tiny infant thrived under his care and he began to piece his life back together. Seven months later, with Maddy in day care, he returned to work. Gradually, through the Internet, he met and bonded with others in similar circumstances, and he continued to maintain close ties with his friends and relatives.
A tender memoir that combines the deep sadness of loss with the joys of parenthood even under incredibly trying circumstances." – kirkus reviews (the review will be available on their site on april 14th).
elle magazine – april 2011 – vol. xxvi – number 8 – no. 308: